At Clonmel Physiotherapy & Sports Injury Clinic, our Chartered Physiotherapists are very much Manual Therapists.
That is to say that we take a very 'hands-on' approach to treatment. Manual therapy describes various treatment techniques that we use, including:
• Joint manipulation and mobilisation
• Soft tissue release
• Muscle energy techniques.
Many problems that present to our clinic are as a result of restriction, tension or tightness in a joint or soft tissue, most frequently the spine. These restrictions are generally as a result of overwork, stress or trauma. We frequently see that in conjunction with a restricted area, compensation may occur close by causing another structure to become hypermobile and strained. With this in mind, it is extremely important to have a full thorough assessment by a Chartered Physiotherapist, as simply mobilising the restricted structures alone without attention to the compensatory factor will result in lack of progress or reoccurrence.
Joint Manipulation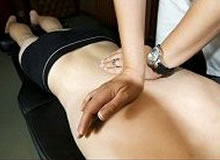 Our Chartered Physotherapists have additional post graduate training in Manual Therapy. We can manipulate and mobilise joints similar to a chiropractor and osteopath if it is the most appropriate treatment for you. The purpose of joint manipulation is to increase range of motion at a joint. It involves a specific and skilled thrust at the end of passive range of motion, which increases joint motion. It is common to experience an audible crack or pop as this takes place due to cavitation within the joint that takes place during the movement.
We find that it is easy to 'crack' the joint but more important to diagnose the reason why it needs to be cracked and to focus on this, generally through rehabilitation and strengthening. We use joint manipulation to effectively treat pain and restriction of the spine and other peripheral joints. With increased joint mobility, it encourages surrounding muscle spasm to reduce relieving pain and allowing improved function.
Joint Mobilisation
Joint mobilisation is different to manipulation as it involves repetitive lower grade movements of one bone on another in a manner that is not possible for an individual to achieve themselves.  People with pain are often diagnosed with a pulled muscle and treated with anti-inflammatories, rest, ice and massage.  This may relieve pain in short-term, however if it returns it may well be that the muscle is in spasm as a result of a restricted joint which may spontaneously release when the joint gets moving again through treatment.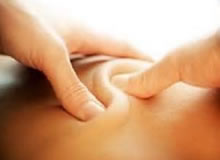 Soft Tissue Massage
The body is made up of different soft tissue such as muscle, ligament, tendon and fascia that need to slide and glide over each other to allow normal movement.  These soft tissues attach in and around joints and often release once normal joint movement has been restored.  This is not always the case and often a muscle spasm may continue regardless and cause restriction in a joint.  Soft tissue release using massage, fascia and trigger point release can help to relieve tension and pain in these tissues and promote normal movement.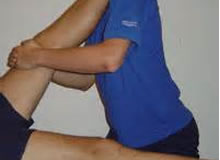 Muscle Energy Techniques
This technique of the Physiotherapist applying a controlled counterforce to a patient's voluntary muscle contraction is effective in reducing muscle tension and restoring joint range of motion.  It is a technique that the patient can be educated in themselves in many cases to continue at home on a daily basis.