The title "Physiotherapist" alone is not evidence of a formal qualification in Physiotherapy.
A Chartered Physiotherapist is a specialised member of the health care team. We are recognised by the medical professions and the Department of Health.  The title "Chartered Physiotherapist" and the initials MISCP indicate that a physiotherapist is a member of the professional regulating body, the Irish Society of Chartered Physiotherapists.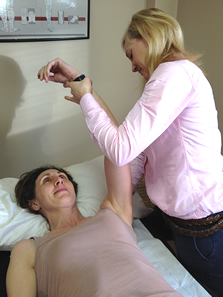 Chartered Physiotherapists have the high level of education, knowledge and experience needed to give a high quality and effective service to patients. When you attend a Chartered Physiotherapist, you can be sure of:
A professional, scientific approach to the assessment, diagnosis and treatment of your complaint;
Seeing a therapist who has qualified with a University degree and who is committed to continuing education and research.
Chartered Physiotherapists are recognised and covered by VHI, Laya, Irish Life and other health insurance schemes.  Continuous professional development is mandatory to maintain membership with ISCP.
All Physiotherapists working at South Tipperary Physiotherapy & Sports Injury Clinic are Chartered Physiotehrapists.