Electrotherapy
Electrotherapy is the use of electrical energy as a medical treatment for injuries and pain relief.  At Clonmel Physiotherapy & Sports Injury Clinic we use electrotherapy in conjunction with manual physiotherapy techniques and rehabilitation to effectively relieve pain and restore function.  We have state of the art electrotherapy equipment that is maintained annually.
Electrical muscle stimulation (EMS)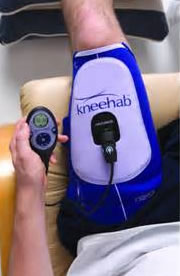 Electrical muscle stimulation (EMS) uses electrical current to cause muscles to contract.  We use EMS at our clinic to prevent muscle weakness following long periods of disuse and to stimulate certain muscles that are weak to contract and strengthen again.   We find that kneehab EMS works very well to stimulate the main stability muscles of the knee following surgery or patella dislocation.  EMS is also effective in pelvic floor rehabilitation following weakness, trauma or injury during labour.  We can order EMS units for our patients to rent so that they can use them regularly at home at rest and during their exercise rehabilitation.
Transcutaneous Electrical Nerve Stimulation (TENS)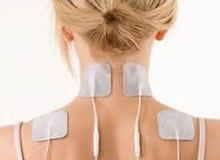 Transcutaneous Electrical Nerve Stimulation (TENS) uses an electrical current applied to the skin by sticky pads to effectively provide pain relief.  Research has shown that different types of currents in TENS machines stimulate different proprioception nerve fibres which block the transmission of competing pain signals.  It has been shown to effectively provide pain relief for both acute and chronic conditions.
The most common conditions we treat using TENS are chronic low back pain, nerve pain, osteoarthritis and labour pains.  There are certain contraindications when using electrotherapy and so it is best to check with your Chartered Physiotherapist before use.  It is important to place the electrodes in specific areas to be effective and to avoid harm.
Interferrential Therapy (IFT)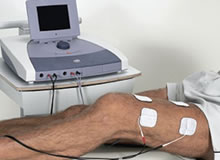 Interferrential Therapy (IFT) is used at our clinic as an adjunct to manual Physiotherapy.  IFT involves applying electrodes indirectly to skin and uses currents of different frequencies to treat different injuries.  IFT helps to reduce pain, muscle spasm and swelling, and to increase local blood flow.  We use it mainly in the acute stage of a musculoskeletal injury that is very tender and cannot tolerate much manual therapy or following a treatment to help reduce muscle spasm.
Ultrasound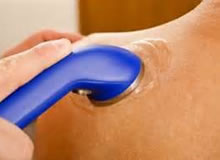 Ultrasound therapy is a treatment modality we use at our clinic to speed up healing in various muscle and tissue injuries.  It involves applying a probe directly to the skin allowing ultrasonic waves to access injured tissues such as ligament, tendon, fascia, joint capsule and scar tissue.  Ultrasound helps to promote healing and enhance the quality of repair in injured tissues.  We use ultrasound regularly and effectively with ankle/knee/shoulder ligament injuries, tennis/golfer's elbow and tenosynovitis of the wrist.