A child is not a small adult but a developing human being.  At times they need some help and support by a health care professional when developing.
Common paediatric conditions treated at Clonmel Physiotherapy & Sports Injury Clinic include:
Torticollis
Biomechanical Problems i.e. Fallen arches, altered limb alignment, knock knees etc, leg length discrepancies.
Talipes
Postural dysfunctions
Growth problems/pains
Trauma/Injury
Orthopaedics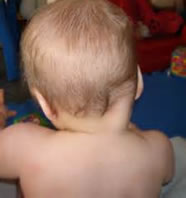 Torticollis
, also known as wry neck is an abnormal asymmetrical head or neck position with a variety of causes.  Torticollis may be congenital and is thought to be related to damage to the sternocleidomastoid muscle during birth.  This results in the muscle shortening, hence limiting range of movement.  Typically the head is tilted towards the affected muscle and rotated to the opposite side.  Torticollis may also be acquired following birth for many different medical reasons and also positioning of the baby's head in car seats, strollers, play mats etc.  It is important to treat torticollis as soon as possible for the best results and to prevent further associated problems such as flat head syndrome and facial asymmetry.
Treatment provided by a Chartered Physiotherapist is based on an accurate history and assessment followed by an individual treatment program.  Techniques such as stretching, strengthening appropriate muscles, massage and positioning education are used to effectively treat torticollis.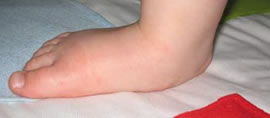 Biomechanical problems 
are common
in children such as rotation of limbs, flat feet and poor gait (walking/running) pattern.  These may cause problems early on as a child develops or in later years as a child matures.  A thorough assessment by a Chartered Physiotherapist is important to correct alignment.  Techniques used include appropriate stretching, strengthening muscles, functional rehabilitation, inserting insoles, footwear advice.  Many biomechanical problems can self correct with a small amount of intervention. 
Congenital Talipes Equinavarous 
is a relatively common birth defect which can affect one or both feet.  The affected foot looks like it is turning inwards at the ankle.  If left untreated the child can appear to walk on the outside of their ankles which will apply unnecessary strain on tissues surrounding the ankle and limit their activity.  However, with the correct treatment by a Chartered Physiotherapist, the vast majority of children recover completely during early childhood.  Treatment consisting of massage, positioning and stretching generally rectifies the problem in the majority of cases.  The sooner treatment commences, the better the outcome and rarely is further intervention or surgery indicated.

Postural dysfunctions are common in children similar to adults. Carrying heavy schoolbags can lead to back pain and a concern for both children and parents.  Research shows that a backpack with hip straps is ideal for carrying a heavy load.  Regular stretches and mobility exercises are important in the developing child as they spend much time seated at a desk, in front of a computer or watching tv.  A Chartered Physiotherapist is specialised in the assessment and treatment of postural problems to prevent back pain developing as the child matures.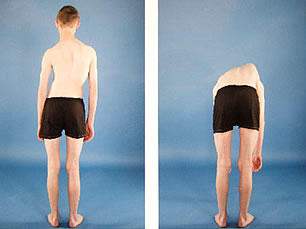 Scoliosis is a curvature of the spine, with unknown cause and mainly affects adolescents.  Those who present with scoliosis may develop asymmetries through their upper body, causing muscle imbalances.  Assessment and treatment by a Chartered Physiotherapist is important to maintain muscle length, strength and functional ability.  If detected early, it can be treated and not cause any permanent damage.  A small minority require bracing or corrective surgery.
Growth problems such as muscle imbalances are common as children experience growth spurts.  This can lead to a lot of pain besides typical muscle cramps.  Osgood Schlatters disease causes pain just below the knee, whereas severs disease affects the back of the ankle.  In more severe cases these growth problems can prevent a child from participating in activity.  Assessment and treatment by a Chartered Physiotherapist is important to help alleviate inflammation and pain and restore normal function.  Ice, massage, stretching, strengthening and biomechanical correction are techniques used to effectively treat these growth problems.